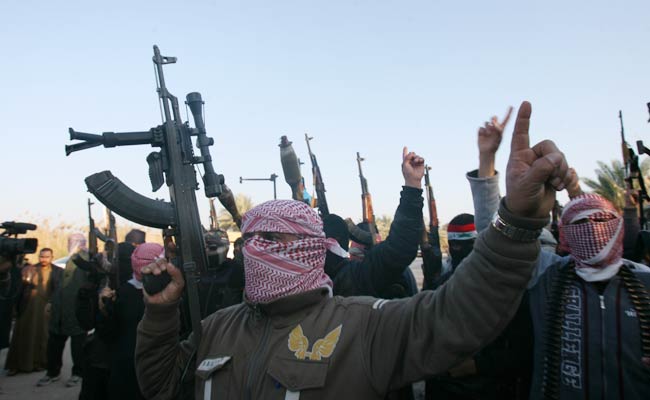 Iraqi Shi'ite fighters and army troops made gains north of Falluja on Sunday but their efforts to seal off Islamic State militants in the city met heavy resistance, including suicide bomb attacks, army sources and militia fighters said.
Prime Minister Haider al-Abadi's government is trying to reverse recent gains by Islamic State hardliners in the western province of Anbar after they seized the provincial capital Ramadi in May.
Falluja, just 40 km west of Baghdad, was a center of Sunni Muslim armed opposition to the Shi'ite-led government even before Islamic State took control of most of Iraq's Sunni regions in June last year.
Sunday's offensive was led by fighters from Kata'ib Hezbollah, part of the mainly Shi'ite Hashd Shaabi force fighting with the army against Islamic State.
Spokesman Jaafar Hussaini said the group managed to cut off a supply line to Islamic State-held territory north of the city.
Authorities say they already control the eastern, southern and western approaches.
"Today's advance is a key achievement to isolate Daesh terrorists inside the city and cut all their supply lines," Hussaini said, referring to Islamic State. "Today's advance will determine how and when Falluja liberation operations start."
Two army sources said Islamic State fighters deployed at least two suicide car bombs to break the advance, killing 21 members of the Hashd Shaabi and army force, but failed to stop them capturing a bridge at al-Sheeha, north of the city.
They said Islamic State forces pulled back to the nearby area of Albu Shijil, where they came under heavy bombardment from army artillery.
Iraqi forces are being supported in Anbar by a US-led coalition which has been carrying out air strikes for nearly a year against Islamic State in its self-declared caliphate across parts of Iraq and Syria.
In Iraq, the Islamist militants have been pushed out of the city of Tikrit and eastern province of Diyala, but are still fighting in the town of Baiji, home to Iraq's largest oil refinery. In Syria they have lost ground to Kurdish fighters, but captured the central town of Palmyra in May.
In the Iraqi capital Baghdad at least 12 people were killed in four separate bombings. Two bombs struck on Sunday morning, and the second pair exploded after dusk as people were breaking their daily Ramadan fasts.
There was no immediate claim of responsibility for the attacks, but statements issued in the name of Islamic State on Sunday said it was behind two bombs which killed 10 people the day before.